Your company's outstanding success, by the harnessing of network and internet technologies for maximum productivity and efficiency.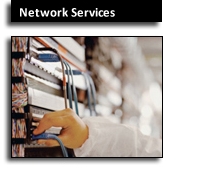 Our friendly, professional, highly experienced technicians are ready to make your network the high-performance, reliable backbone of your business operations that it should be.
Our pledge to you is that we will install what you need (and only what you need) for a reliable, responsive network.
We provide the following onsite network services:
Microsoft Windows 2008 / 2012 / Hyper-V Server installation & consulting
Microsoft Terminal Services and hosted remote Windows 7 (VDI) installation & consulting
Microsoft Legacy Windows 2003, 2000, NT 4.0 Server migration, recovery & consulting
Cisco ASA routers and consulting by Cisco certified professionals
Blackberry Enterprise Server and consulting by a Blackberry Certified System Administrator
Local Area Networks that scale to your growth
Wide Area Networks / VPN to securely expand your network to multiple locations
Wireless Lans seamlessly integrated with your existing network
Network Traffic Analysis and Logging - network mysteries solved
Customized internet email servers and spam filtering
Employee Internet and Computer Usage: Monitoring and Control
Legacy Novell Netware 2.x / 3.x consulting and migration services
Legacy IBM Classroom LAN Administration System installation / consulting
The Dynamis Backup Service - automated daily offsite backup
Complete wiring services (voice, video, and data)
Network Security: comprehensive assessments
Firewall installation and support
HOURLY RATE: Any or all of these services may be purchased at an hourly rate of $120 per hour, calculated to the minute. Travel time is charged at $60 per hour, and is also calculated to the minute. The initial consultation - a discussion of how we may be of service to you - is provided free of charge.

For more information on Dynamis network services, please contact us at
(713) 721-3126 or send us a message.

1920 N Braeswood | Houston, TX 77030 | (713) 721-3126 | Fax (713) 589-5873 | Send an Email

CCBot/2.0 (https://commoncrawl.org/faq/)